Voting for the Synergy Contest at WCM went up pretty quietly. I didn't even notice the submissions were up until the contest page itself was linked to me.
You can view
all of them
and vote for your favorite. The contest gave us two scripts to choose from, pre-written screenplays to machinimate.
I didn't create one for this contest, but I did some voice acting for
Pinkhair
and
BaronSoosdon
's submission to the contest.
Caruu
did the sound design and some of the male voices. I really enjoy doing voice work, I can be part of machinima even when I'm not making my own. I did the voices for the female undead and the gnome girl - it wasn't a lot of stuff but it was fun to do. Very different voices than I'm used to doing. Also, making noises of a gnome and tauren making out might be one of the strangest things I've ever been asked to do.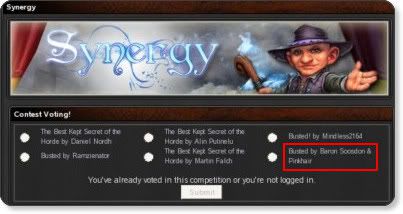 I know, not a most inspired post, but I'm in pain from too much sun and walking, so I'm retreating to my cave to hibernate. Cheers!